Secure Drop Box Installed In OCERS Lobby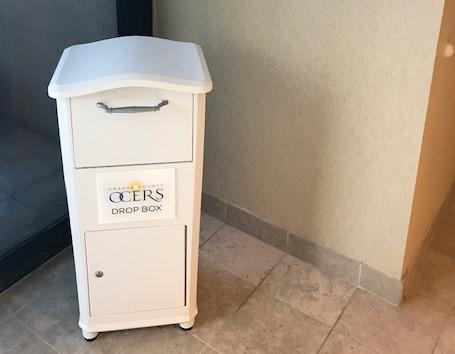 In the wake of the COVID-19 pandemic, OCERS' staff is working remotely and is available during all regular business hours (8 a.m.-5 p.m.), Monday-Friday. The OCERS team is assisting members with all their retirement needs over the phone during this period.
Additionally, OCERS has installed a secure Drop Box for your convenience. You can now drop off paperwork, correspondence, and parcels that are within 11.5 x 7.3 x 9.3 inches in size
A few helpful notes
The Drop Box is available from 7 a.m. to 6 p.m., Monday-Friday (except on official holidays)
Do not drop loose papers in the box
Items should be placed in an envelope if possible
You can still send forms and correspondence electronically to OCERS via the myOCERS self-service member portal. You can also mail correspondence by mail to OCERS, 2223 E. Wellington Avenue, Suite 100, Santa Ana, CA 92701.