OCERS' Human Resources Team Brings 'Goodwill' To Area Veterans
April 14, 2022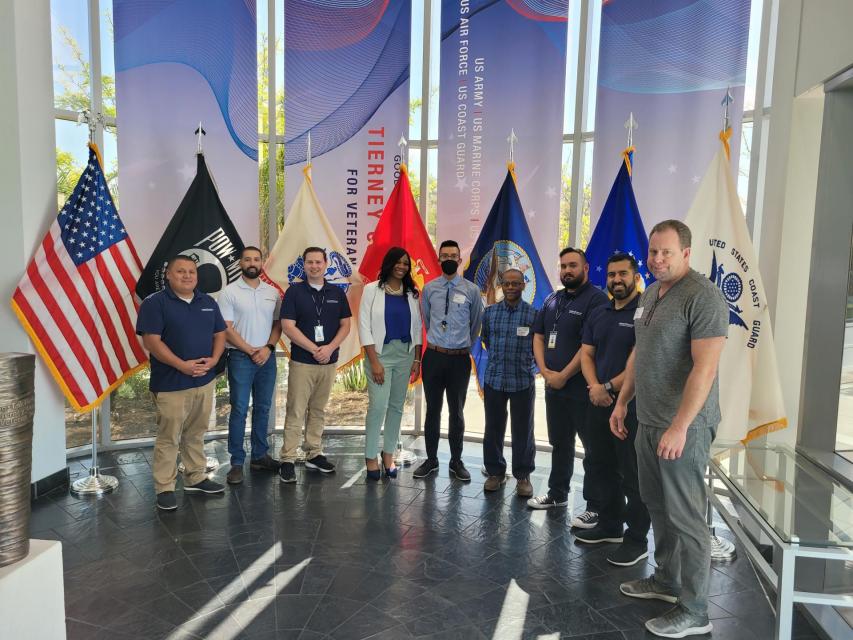 As part of OCERS' Talent Management Strategy to "recruit, retain and inspire a high performing workforce," OCERS' Human Resources department is sharing its message with the community about how the $22.5 billion retirement system is a great place to embark on a career in public service.
In late March 2022, Human Resources Analyst Felicia Durrah and Staff Assistant John T. Nguyen partnered with the Goodwill of Orange County's Tierney Center for Veteran Services to share tips and best practices when applying for a position with a government agency such as OCERS. The topic aligned with the Tierney Center's monthly "Career Preparation and Real Results for Veterans" sessions held monthly at the Goodwill's Tustin office.
Goodwill is an American nonprofit 501 organization that provides job training, employment placement services and other community-based programs for people who have barriers to their employment. OCERS frequently has exciting job openings throughout the organization. The agency recently added 12 new positions and is eager to build a pipeline of qualified talent from diverse backgrounds and life experiences. OCERS has a Diversity, Equity, & Inclusion (DEI) business initiative that encourages employees from diverse backgrounds to apply for openings with the agency.
"Our goal is to partner with agencies dedicated to talent with disabilities and veteran' services. The Human Resources department has diversified our recruitment strategy and are reaching out to agencies such as the OC Goodwill to build a mutually beneficial partnership and share information with the hopes of building a pipeline of talent," Felicia explained.
Goodwill's "Career Preparation and Real Results for Veterans" program holds monthly classes that provide an "enriching experience focused specifically on the career advancement of veterans." It was at one of the monthly sessions that Felicia and John were invited to share information about the application process for OCERS. Among the avenues for gaining job experience is OCERS' volunteer program. John's career journey with OCERS first began when he accepted a volunteer position in 2019 in the Human Resources department before landing a full-time Staff Assistant position.
"My goal was to inspire potential future team members at OCERS with my personal story," John said. At the Goodwill's Career Preparation and Real Results session, John shared that "coming out of college, I didn't know what I wanted to do. I talked about how I understood it is a very competitive job market and that I had to face a reality check; if I didn't have any real experience, my job applications were going to get passed over. Seeing OCERS' Volunteer program at the time, I viewed it as an opportunity to gain experience with the mindset of coming in with a learning attitude and to build professional relationships at OCERS. Even though I was only there for 2-3 months, it was very valuable in terms of the projects I got to work on and the connections I was able to build."
Added Felicia: "Our presentation covered the full application process – including signing up for (job) interest alerts, competitive assessments, building your resume, completing the application and the supplemental questionnaire."
As part of the presentation, veterans were engaged in two separate activities that asked them to review two applications (one completed successfully and the other incomplete); the group also had the opportunity to serve in the role of a recruiter, screen the application for the minimum qualifications and as a Subject Matter Expert to rate and evaluate the application based on the information presented by the candidate.
"Our main goal was to support participants' understanding of how to align their skills with the minimum qualifications, job responsibilities and highly desirables when applying for a job – and to share online tools that best support their ability to communicate their skills and accomplishments in the application," Felicia said.
"The participants were engaged and very interested in the information shared. When asked if they found the information shared helpful, they responded that they found it to be "beyond helpful."
Outreaches such as the visit to Goodwill not only provides OCERS with a pool of future volunteers and talent but pays additional dividends for the system.
"In addition to cultivating our partnership with Goodwill, we are creating awareness about OCERS," Felicia said.
OCERS is excited to continue its partnership with OC Goodwill and build future partnerships with community organizations.