Orange County Board of Supervisors Celebrates OCERS 75th Anniversary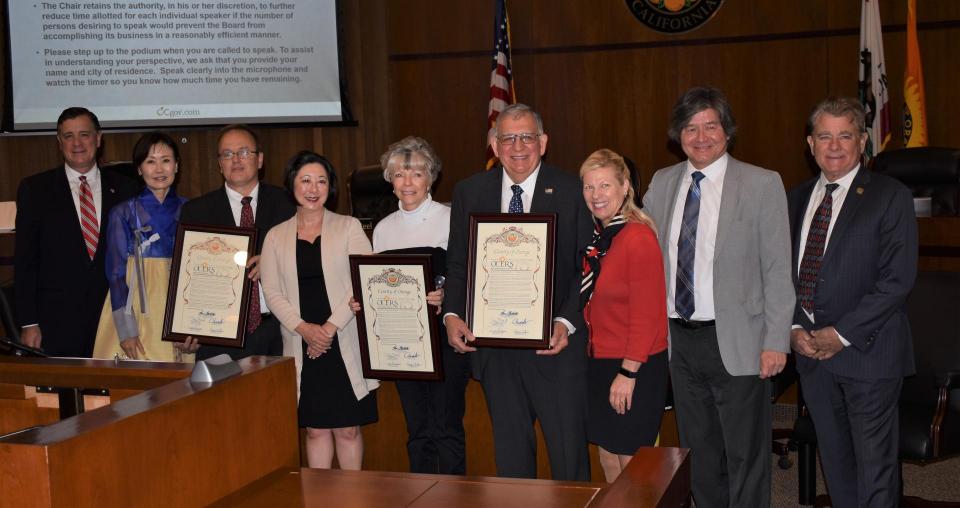 Lisa A. Bartlett, Chairwoman of the Orange County Board of Supervisors, led a formal celebration of OCERS' 75th Anniversary with the presentation of a Resolution on January 14, 2020.
Among those who joined the Board of Supervisors were members of the OCERS Board – Charles Packard, Frank Eley, and Shari Freidenrich, OCERS Chief Executive Officer Steve Delaney, and Linda Robinson, co-president of the Retired Employees Association of Orange County (REAOC).
The resolution was signed by all five members of the Board of Supervisors and reads:
WHEREAS, the Orange County Employees Retirement System (OCERS), officially established Jan. 1, 1945, is celebrating its 75th Anniversary, and it is appropriate at this time that they be extended special recognition and commendations by the public for their many outstanding accomplishments and achievements;
WHEREAS, elected officials and citizens throughout California – recognizing the vital importance to public employees not covered by Social Security of having a retirement system created to provide service retirement, disability, death and survivor benefits to them upon their retirement from public service – established the County Employees Retirement Act of 1937 ('37 Act) in the State of California for that very purpose; and
WHEREAS, during its history, OCERS membership increased from fewer than 1,000members in 1945 to nearly 45,000 active, deferred and retired members and beneficiaries today, as its investment portfolio has grown from no assets and just initial pension contributions originally to nearly $17 billion currently; and
WHEREAS, throughout the years, the OCERS Board of Retirement has remained committed to fulfilling its fiduciary responsibility through cautious investment of fund assets and efficient administration of the System in a manner assuring prompt delivery of benefits & services to OCERS members and their beneficiaries; and
NOW, THEREFORE, BE IT RESOLVED THAT THE ORANGE COUNTY BOARD OF SUPERVISORS hereby takes great pleasure in congratulating OCERS upon the occasion of its 75th Anniversary, commends the OCERS Board of Retirement for delivering secure retirement and disability benefits with the very highest standards of excellence, and further extends sincere best wishes for continued success in all future endeavors.
Dated this 14th Day of January, 2020