December 17, 2019 edition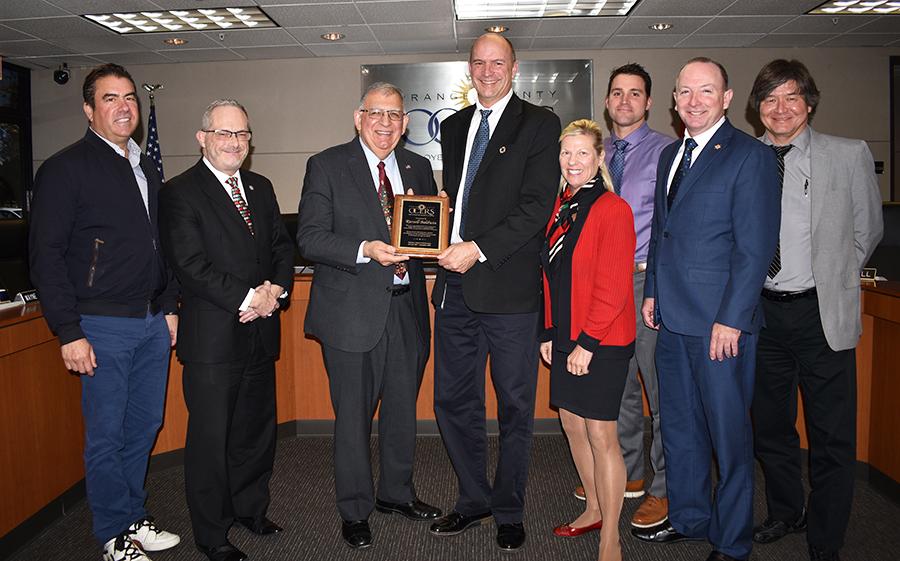 Board of Retirement Meeting Update
At its regular meeting held on Monday, December 16, 2019, the Board of Retirement honored Board Member Russell Baldwin, who is leaving the Board at the end of 2019.
Mr. Baldwin was honored with a plaque for his most recent three-year term (January 1, 2017 – December 31, 2019), and was acknowledged for his previous service on the Board of Retirement and working for the County of Orange.
"I've enjoyed my 10+ years sitting on the Board… I always felt that I kept the members' interests front and center," said Mr. Baldwin, adding how much he appreciated all the assistance he received from OCERS' staff and fellow Board Members. "I think OCERS is one of the best retirement systems in California, if not the world, and I hope I made a mark."
In other action taken at the Board of Retirement meeting, the Board unanimously voted to select current Board Member Shawn Dewane as Vice Chair beginning on January 1, 2020. Current Vice Chair Roger Hilton will assume the position of Chair on that date.
Chief Executive Officer Steve Delaney announced that the seat held by appointed Board Member David Ball (whose regular term also ends December 31, 2019) will be filled by Arthur Hidalgo. That appointment, as well as the reappointment of current Board Members Shawn Dewane and Charles Packard were approved by the Orange County Board of Supervisors at its regular meeting held on December 17, 2019.
Investment Committee Update
At its regular meeting held on December 16, 2019, the Investment Committee received an update on OCERS' investment portfolio from Chief Investment Officer Molly A. Murphy.
OCERS continues to achieve its long-term investment goals and meet its expected returns. For the periods ended November 30, 2019, OCERS' portfolio has earned a net-of-fees return of 8.7 percent for the trailing three years and 7.2 percent for the trailing 10-year term.
This year, through November 30, OCERS has achieved a 12.4 percent net-of-fees return, with system assets reaching an all-time high of approximately $17 billion.